Beverage Display Coolers Work for Both in Front and Behind the Counter at Quick-Service Restaurants
Beverage display coolers and refrigerators have a variety of uses, but for quick service restaurants, they are an excellent way to clearly showcase the beverages and specialty items that are available for patrons. Self-serve sliding glass door refrigerators work well at quick-service restaurants, and models with open-air designs are a great option. Open-air coolers use air curtains to keep contents chilled, which lowers the amount of touchpoints and allows customers to access grab-and-go items without having to open a door.
There's No Need for a Beverage Menu If Drinks are on Display
Menus are often overlooked in quick-service restaurants and bars, and it is generally best to keep it simple. Rather than listing beverages on a menu, display them! Save time, money, and valuable real estate on your menu by providing an easy-to-see beverage display cooler with all the beverage options available. Without a beverage menu, this additionally leaves the option for add-ons purchases, impulse buys, and upgrades within an attractive display leaving the customer happy and exempt from sticker shock.
Bars Typically Display Liquor Bottles Behind the Bar – Why not Display the Bottled Beer Selection?
Bars in high-end establishments always display their top-shelf liquors for patrons to see. But what about the beer selection? Beverage display coolers allow bars to display the craft beer bottles and cans available for purchase as well. Sliding glass door refrigerators work well in the tight spaces behind bars to display the beer selection for patrons, without extending beyond its footprint. LED lighting can be added to sliding glass door coolers to increase visibility.
Sliding Glass Door Refrigerators Don't Take Up Much Space Behind the Bar
Sliding glass door refrigerators take up very little space and provide excellent storage for a variety of beverage sizes (cans, bottles, kegs, etc) making them perfect for bars with limited space. Powers Equipment's customizable doors automatically close and can be propped open when stocking the refrigerator adding to the usability of the sliding glass door refrigerator. In addition, space is optimized with a sliding door as opposed to a swinging door.
Sliding Glass Door Refrigerators Keep Beverages Cold Even When Doors are Opened Frequently
It is important to keep refrigerators and display coolers at their optimal temperature to keep its contents at the right serving temperature. Powers Equipment's heavy-duty sliding glass door refrigerators have a large compressor for quick cooling of warm beverages that are great when doors are opened frequently at high volume locations. The sliding glass door technology allows customers to look at the available options without having to open the refrigerator until they are ready which means that even in hot weather, you can rely on having the coldest beverages around with an energy-efficient commercial-grade refrigerator system.
What Accessories Can You Get for your Sliding Glass Door Refrigerator from Powers Equipment?
Powers Equipment offers a variety of customizable options that benefit your sliding glass door refrigerator and beverage display coolers. Depending on your needs, electronic door locks to keep your merchandise safe during and after business hours, bright fluorescent LED lighting, and self-cleaning condensers that are certified by Nationally Recognized Testing Laboratory to meet NSF/ANSI Standard #7, can also be added to a refrigerator, and many of our products are Energy Star eligible, which saves money on electricity costs.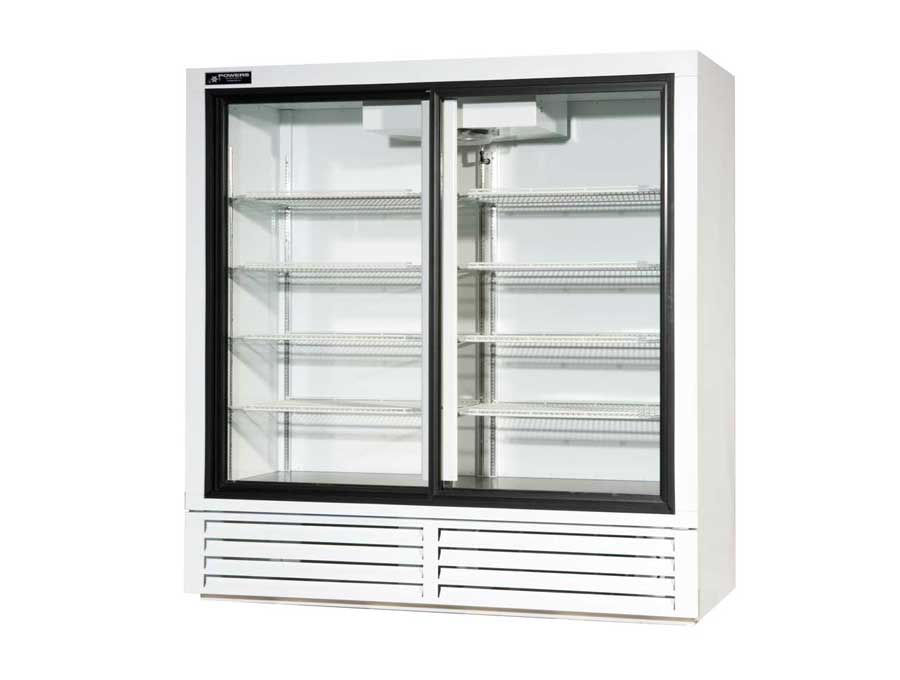 Sliding glass door refrigerators typically come with either two doors or three doors. The two-doors model comes in two sizes: 52″ and 70," and the three-doors option is 77″ wide. We are happy to discuss your unique refrigerator needs, – contact us at 1-800-7868 or email us at sales@powersequipment.com to discuss your options for customization.