How has the Pandemic Changed How Meals are Served in Schools?
The pandemic and social distancing have had a profound effect on our daily lives, and have been especially difficult challenges for schools. The lunch hour has always been a time when kids come together en masse, with long lines and big groups eating and socializing. Each school has had to adapt around the pandemic to minimize large groups at lunch, while still serving essential food and beverage to students.
Some schools have had students pre-order lunches a day in advance, to be delivered to students' classrooms. In this method, each classroom became the cafeteria at lunch hour, with the cafeteria unused. Other schools have served lunch outside or divided the cafeteria into socially distanced sections. Others have set up smaller serving stations, grab-n-go meal carts, and beverage coolers distanced in the cafeteria or hallway to break up lunch lines. One way or another, the lunch hour is still something schools are adapting to, until it is deemed safe to return to the rowdy lunch periods we all know and love.
What's the Best Way to Keep Milk Cold in a Cafeteria Setting?
Milk is perishable, so it is very important to keep it cool. A milk cooler should maintain a temperature of 40°F (4°C) or below to keep milk fresh. Milk has a "Sell By" date of 14 days after pasteurization, and since it takes an average of 48 hours to reach its final destination, every precaution must be taken to maintain this temperature. Every 5° above 40° halves the milk's remaining shelf life, allowing bacteria to grow and giving the milk a sour taste and smell. Coming in a range of different sizes, milk case coolers are a great way to keep milk at the right temperature and accessible to students.
Why Milk Coolers are the Perfect Fit for Elementary School Students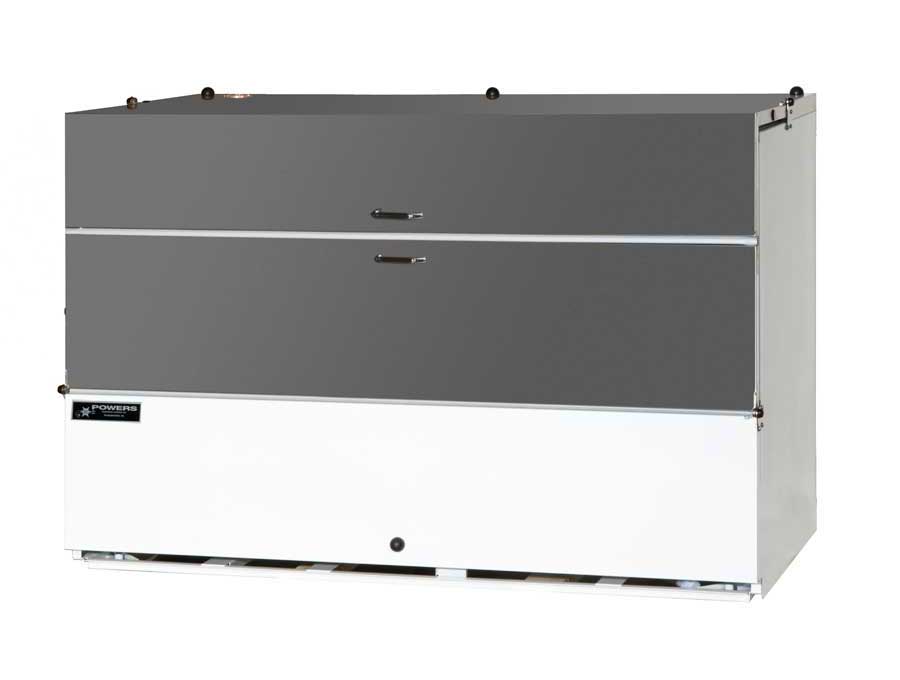 Milk coolers are the best fit for serving beverages to elementary school-aged children, with the ease of front, top, or side access. The milk coolers themselves are not very tall (just like school students!), making milk coolers easily accessible for young students. Long-lasting aluminum interiors provide efficient cold wall cooling, making cold milk accessible to young students who may have at least one hand full. Instead of opening and closing a refrigerator door, students can grab milk quickly and easily from the cooler. Then the cooler can be shut tight between periods to maintain freshness.
Milk is also a great source of nutrition for growing students. Studies have shown that students with access to healthy meals and beverages exhibit less hyperactivity and absenteeism. The little cartons in the milk cooler play a vital role in this, with nine vitamins and nutrients that support healthy growth.
Secondary Schools now Utilize Beverage Coolers for Older Kids
Beverage coolers are a great option not only for young developing bodies but also for older students approaching adulthood. Even as adults, managing a lunch tray with personal belongings while being served food and beverage can be a balancing act. Having coolers with easy grab-and-go access makes life simpler for everyone. The health benefits of milk's nutrients are also relevant for high schoolers. Fresh, cold milk is the cornerstone of healthy eating for students of all ages across the country.
What's the Best Way to Keep Milk Coolers Clean for Student Use?
Cleaning off the exterior of a milk cooler every day gets rid of bacteria that might have gathered from an outside source, and wiping down the interior prevents any bacteria that could come from spoiled milk. It is important to use non-toxic cleaners that are intended for refrigerator use. Some cleaners may contain harsh chemicals and fragrances that can impact your milk.
On a weekly basis, cleaning shelves, bins, and drawers will help to prevent foul odors. Make sure to let these components air-dry before placing them back in the beverage cooler. Keeping a regular schedule of cleaning mechanical parts will also ensure a cooler's optimal performance. Mechanical components can gather dirt, dust, and mold, which will gradually make your milk cooler operate less efficiently. Regular cleaning helps to keep your milk fresh and your cooler working properly.
Powers Equipment has Milk Coolers and Beverage Coolers for School Cafeterias
Powers Equipment has customizable milk coolers and beverage coolers to fit the needs of school cafeterias for students of all ages. Contact us today to find the right milk or beverage cooler for you!